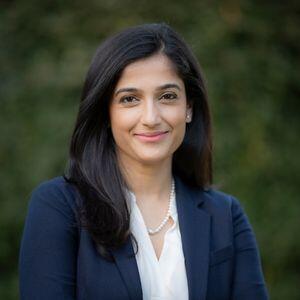 Executive Director
Deepa Prasad
Background: Deepa brings over 20+ years of healthcare experience spanning operations, venture capital, and investment banking. She most recently served as President/CEO and Board Member of vTv Therapeutics (Nasdaq: VTVT).
Previous to vTv, she was General Partner at WestRiver Group where she led Healthcare Innovation Fund with investments in Design Therapeutics (Nasdaq: DSGN), Ginger (now $3B Headspace Health), and Curai. In June 2021, Deepa was the recipient of the Falk Marques General Partners Rising Star Award sponsored by Deloitte.
She currently sits on the Board of Design Therapeutics (Nasdaq: DSGN) and is a Strategic Advisor to several biotech companies.
Previous to WestRiver, Deepa's roles included Chief of Staff at Blue Shield, Regional VP for Optum (NYSE: UNH), VP of Financial Strategy and Business Development at Coherus Biosciences (Nasdaq: CHRS) and almost a decade in biotech investment banking executing private placements and buyside/sellside M&A for biotech and pharma companies.